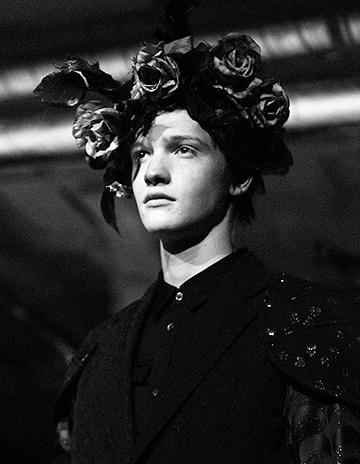 Men's Comme des Garcons Homme plus
Comme des Garçons is a a Japanese fashion label headed by Rei Kawakubo, who owns the company with her husband Adrian Joffe. The label was started in Tokyo in 1969. It became successful in Japan in the 1970s; a menswear line was added in 1978. Groundbreaking Comme des Garçons's collection was shown in Paris in 1981. It created a splash for its predominant deconstruction, asymmetry, use of distressed fabrics and a monochromatic color scheme as the new paradigm of conceptual fashion. Rei Kawakubo's creations are known for their radical intellectual "anti-fashion" aesthetic. Men's line Comme des Garçons Homme Plus reconceptualizes traditional menswear tropes of suits and tailoring, military, derby and oxford shoes, and loungewear with unorthodox cuts, fabric treatments, and hybrid garments. All items are designed in the Comme des Garçons studio in Aoyama, Tokyo.
Item added to your wishlist
Item added to your cart
Something went wrong. Please try again later.
Thanks for joining us!
Please select the size
Your cart is empty for now